Meetings, ugh… to Meetings, yay!
Everyone dreads meetings at work… Nobody wants to start the meeting, but what else can you do? As a manager, you probably think that way, too, even if you've gathered the team to discuss a critical aspect of a project you're all working on. To make sure your meetings start on the right foot, play an icebreaker game to make them more fun and productive.
Credit: Giphy
The most important thing to keep in mind is that team meetings need to open in such a fashion that it creates a team bonding environment and these should ideally be collaborative. The best ice breakers have the power to strengthen coworker bonds, stimulate better brainstorming sessions, and create an atmosphere of inclusivity. To get the most value out of your team bonding moments, we've compiled a list of the 5 best ice breaker games for the workplace:
1. One Word Game
To play, tell participants to think of 1 word describing the given topic for a minute or two, and then share with the group one word that describes the chosen topic. This game allows you to provide initial context into a meeting's topic, and get everyone in the right mindset for discussion while encouraging everyone to think about a certain topic ahead of time which could increase participation during the meeting.
2. Two Truths and a Lie
To play, you simply ask each person to brainstorm three "facts" about themselves — two of the facts will be true, and one will be a lie. Next, get everyone else in the team to guess which of the facts is a lie. Not only is this a fun and engaging game, it can help your team learn facts about one another, so they can begin forming deeper bonds.
3. Who is it?
In the same theme as the last icebreaker, have everyone write a unique, strange, or unexpected fact about them on a piece of paper. Then, put the pieces of paper into a hat and mix them around. Pull from the hat and read each fact. Allow the team to try and guess who wrote it. After they guess, ask the employee who wrote the fact to identify themselves and give any further context if necessary. This could be a great way to get to know surprising new things about your teammates.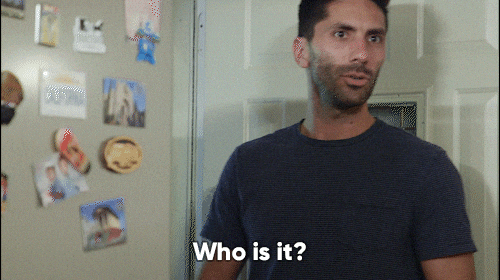 Credit: Giphy
4. Choose Your Favorite
This icebreaker is about your favorite things. You'll ask your team to choose their favorite movie, song, T.V. show, etc. You can change the question every week. Using this icebreaker helps your team get to know one another even when they work remotely and can spark a conversation about what everyone likes and dislikes.
5. One Word Pulse Check
For this icebreaker, have everyone on your team go around and share a word or phrase that represents how they feel that day. The person sharing gets to decide whether or not to elaborate, and everyone listens without response. The purpose of the exercise is to give people a chance to release and/or reveal emotional setbacks, obstacles, wins, highlights, or anything else that might be impacting how they show up to work that day. It provides a space for participants to bring their entire self to work and it gives the team context for how to support that team member that day.
Credit: Giphy
Icebreakers can seem cringeworthy, but are actually a great way to build trust within your team. Even if you work remotely, team bonding is an important part of running a productive, effective team. Remember, though some of your employees may be social butterflies, not all of them are. The easiest way to help your workers get to know each other better is to encourage interaction in a way most people are comfortable with. Because all participants are in it together, icebreakers are one of the quickest paths to a connected team. Once you feel that everyone is comfortable and talking to one another, you can move on to trying more elaborate team-building activities.